Interest rate hope as food inflation falls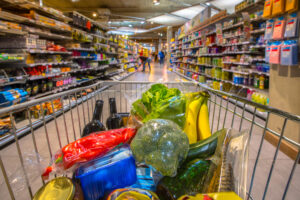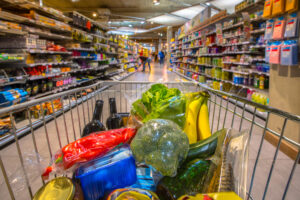 Food prices inflation has fallen to its lowest point in 15 months, strengthening the case for the Bank of England to leave interest rates unchanged when its policymakers meet on Thursday.
Grocery prices increased by 8.8 per cent over the year to October, the sixth straight month of deceleration and down from September's 9.9 per cent increase, according to the British Retail Consortium and NielsenIQ.
It marks a steep descent from the near-20 per cent peak in prices growth after Russia's invasion of Ukraine in February last year, which caused turmoil in international grain and energy markets and sent the cost of food production soaring.
Another annual fall in food prices inflation will increase pressure on the Bank to ease off on further interest rate rises. Overall shop prices inflation slowed to 5.2 per cent in the year to October, its lowest level since August 2022, signalling that official headline inflation is also set to decline from 6.7 per cent.
The nine members of the ratesetting monetary policy committee are expected to leave borrowing costs unchanged at 5.25 per cent this week. Last month, the committee shocked the City by keeping the base rate on hold for the first time since November 2021, concluding a run of 14 straight rate rises.
The British Retail Consortium and NielsenIQ research illustrates that the rapid acceleration in supermarket and essential bills over the past two years is gradually unwinding. Inflation is forecast to fall to about 5 per cent by the end of the year, meaning that Rishi Sunak would hit his target of halving the rate in 2023.
Helen Dickinson, chief executive of the consortium, said: "Retailers have been battling to keep prices down for their customers in the face of rising transport costs, high interest rates and other input costs."
The war in Ukraine has disrupted grain, gas and oil supplies, making it more expensive to produce food. Strong wages growth, higher transport costs and rising interest rates also have lifted food suppliers' costs.
Supermarkets have been accused of raising the price of groceries far beyond the increase in their costs, using the guise of inflation to beef up their profit margins, a process known as "greedflation". However, after an inquiry into the sector's market dynamics this year, the Competition and Markets Authority concluded that companies had not unfairly raised the prices of food, although it did judge that firms had lifted petrol prices excessively.
Mike Watkins, head of retailer and business insight at NielsenIQ, the consumer insights group, said: "Inflation has helped the top-line sales growth of many food retailers this year, but in reality shoppers have been paying more and buying less.
"The rest of the retail trade has seen less benefit due to the continued squeeze on discretionary spending."
Non-food prices growth fell to 3.4 per cent from 4.4 per cent, a 13-month low, indicating that inflationary pressures eased across the board this month.
Read more:
Interest rate hope as food inflation falls