Companies failures on track for worst year since 2009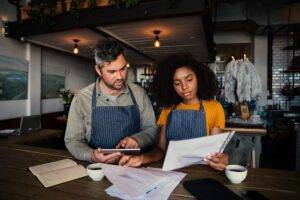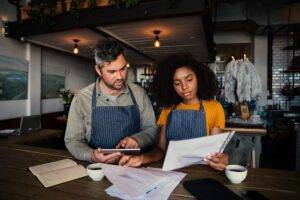 The number of companies going bust this year is on track to be the highest since the depths of the financial crisis in 2009.
Insolvencies rose 10% from a year ago in the three months to the end of September, the latest official figures for England and Wales show.
There has also been a sharp rise in the number of firms at risk of going bust.
Firms in "critical financial distress" jumped 25% in the last three months, insolvency expert Begbies Traynor says.
They are defined as having county court judgments exceeding £5,000 against them – often a precursor to going under.
There are nearly 38,000 companies in critical financial distress, according to data prepared by analysts Red Flag for Begbies Traynor.
Julie Palmer, from Begbies Traynor, said this was down to a combination of higher inflation and borrowing costs twinned with weaker consumer confidence and demand.
"Tens of thousands of British companies are now in financial dire straits now that the era of cheap money is firmly behind us," she said.
"Businesses that had loaded up on debt at rock-bottom rates, and were only able to cling on during the pandemic thanks to government support, must now deal with a financial reality check as higher interest rates hit working capital for the foreseeable future.
"Taken together with stubbornly high inflation and weak consumer confidence, many of these businesses will inevitably head towards failure."
The construction sector saw the sharpest increase in companies facing critical distress with an increase of 46% compared to just three months ago.
Support measures during Covid – including furlough, bounce back loans and forbearance on the part of HMRC – kept company failure rates low but those supports have fallen away at the same time as inflation and interest rates have risen hitting company bottom lines and their customers pockets.
Ms Palmer from Begbies Traynor said she was hearing similar stories from other company directors who are phoning her company in increasing numbers asking for advice and saying they feel they have nowhere else to turn.
"We call it director fatigue," she said. "There are no solutions out there at the moment, and at the same time it's a pretty buoyant employment market so a lot of business owners are saying 'I just can't do this anymore, and I might as well just work for somebody else', and that's the choice they're taking."
Commenting on the figures, Julie Hunter, partner in the commercial and dispute resolution department at Stephensons:  "These are sobering figures which highlight the stark reality facing many businesses at the moment. A perfect storm of high inflation, soaring interest rates and spiralling energy costs have all piled on the pressure for business owners who were already under significant strain following the pandemic and the sharp increase in the cost of borrowing.
"Many companies have significant debts and are struggling to meet these as well as the costs of running their businesses. They are also facing a rise in their own creditor's payment dates, which ultimately affects cashflow. If you are struggling, the first step would be to seek independent advice from an Insolvency Practitioner. Where companies are struggling to recover their own debts, I would also recommend acting quickly to recover these, as it is much harder to recover aged debts than those recently incurred."
Read more:
Companies failures on track for worst year since 2009