Cambridge Satchel Company founder Julie Deane packs her bags after sale to Chargeurs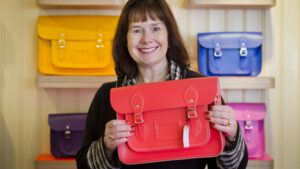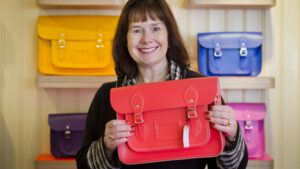 Cambridge Satchel Company's founder Julie Deane has left the business after its recent sale to a French group, a deal designed to ensure that its factory in Leicester is protected.
Deane, who established the brand of traditional English school bags in 2008, said that rocketing energy costs, combined with the turmoil caused by Covid-19 and Brexit had forced her hand. "We really, really needed to raise money," she said. "We would have almost been ok but then we had the surge in energy prices. It was another enormously stressful challenge. When you are manufacturing here you have a big energy bill: all those cutters and sewing machines."
The French luxury textiles group Chargeurs acquired the company in August. Cambridge Satchel will join Swaine, a leather goods maker acquired by the French group last year, in a British-made luxury goods division.
Cambridge Satchel has not made a profit since 2014 when it secured a £12.7 million investment from the venture capital firm Index Ventures. In February 2020 Deane sold a further stake for an undisclosed sum to the private equity firm Cassia Investments.
She is a trained accountant but left her job to set up the business to raise enough money to move her daughter Emily from a state school where she was being bullied to a new school. "I set it up with £600 to send my children to a good school; it was not be the next Richard Branson," she said.
The company grew quickly and was given a boost in 2012 when it featured in a high-profile advertisement for Google's web browser Chrome. Deane also took part in trade missions led by the former prime minister David Cameron and the brand picked up celebrity fans including the musicians Taylor Swift and Lady Gaga.
Deane, who was appointed CBE last year for services to entrepreneurship and manufacturing, took money out of the business when she sold stakes in its early days: "I made sure my mum and I were financially secure."
The swift exit, though, is unusual. She said: "I have loads of people in the business who have worked for me for over ten years. I know people's children's names and what issues they had. It was incredibly important to me to safeguard the business and the jobs.
"Looking at the options we had, the best option was the acquisition by Chargeurs. They are a very big group and have the financial resources to reassure me the business is in good hands. It was the right thing to do.
"I had fully intended to stay at Cambridge Satchel. It was only as things progressed it became clear that I had to act on my instincts. The new owners have their own vision and plans and I don't want to be the miserable person in the corner. I am not the best at hiding my opinions."
She said she would not swap the experience of building Cambridge Satchel for anything, citing highlights such as speaking to large audiences in China and securing a Guinness World Record for sitting through 158 consecutive start-up pitches over the course of 28 hours and 51 minutes in 2016.
"I would not for a minute discourage anyone from starting their own business," she said. "It has done one hundred times more than we ever expected for me and my children. But it was the right time to get more investment."
Read more:
Cambridge Satchel Company founder Julie Deane packs her bags after sale to Chargeurs