Wetherspoons toasts first annual profits since pandemic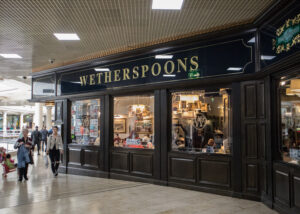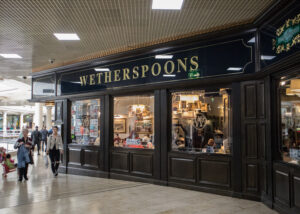 JD Wetherspoon has credited a surge in sales and reduction in costs for its first annual profit since the COVID pandemic.
The value pub and hotel chain, which trades from 826 sites across the UK and Ireland, reported profit before tax for the year to the end of July of £42.6m.
That compared to a loss of just over £30m during the previous 12 months.
Like-for-like sales rose by 12.7% and total sales by 10.6% to £1.92bn. Food sales were a major factor behind the revenue rise while bar sales were up 9%.
Wetherspoons said that momentum had continued since the end of the financial year with sales, on a comparable basis, up by just shy of 10% over the nine weeks to 1 October.
Its value offering has proved attractive as budgets continue to be squeezed by the effects of the cost of living crisis.
The pub, and wider hospitality sector, has had a particularly tough time since March 2020 when COVID restrictions forced sites into temporary hibernation for weeks at a time on several occasions.
Surging ingredient and energy costs, enforced wage increases and staff shortages have been among the challenges facing the industry since – with the effects of higher prices forcing pubs in England and Wales out of business.
A total of 13,000 were lost during 2020 and 2021, with a further 450 going last year according to British Beer and Pub Association (BBPA) data.
Recent figures from commercial real estate specialists Altus Group showed closures in England and Wales were running at a rate of two per day.
The BBPA has called for an extension of business rates relief, beyond the current financial year, to prevent further permanent closures.
The Wetherspoons model has provided it with protection but it told investors there would be no final dividend payment.
Shares rose by almost 2%.
Charlie Huggins, portfolio manager at Wealth Club, said of the performance: "Wetherspoons seems to be moving in the right direction, following a very difficult few years.
"The rise in energy and food costs over the last 18 months has posed major headaches for Wetherspoons and put pressure on margins. However, inflation now appears to be moderating which should bode well for profits in 2024.
"Despite these rising costs, Wetherspoons has been committed to maintaining low prices. This is helping to keep customers loyal, as shown by the robust like-for-like sales growth.
"These value credentials are critical, and should mean the group is better placed than many of its peers to weather any downturn in consumer spending."
Read more:
Wetherspoons toasts first annual profits since pandemic