Ryan Reynolds and Rob McElhenney join investors buying into Alpine F1 team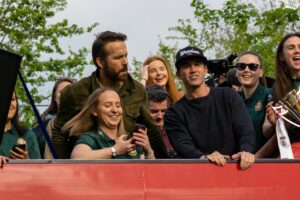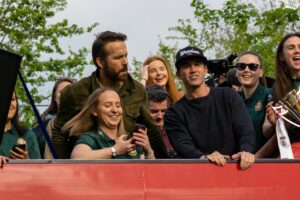 Ryan Reynolds and Rob McElhenney have expanded their sporting portfolio by investing in Oxfordshire-based Formula One team Alpine Racing.
The Hollywood stars and co-owners of Wrexham are part of a $200m (approximately £157m) investment, representing a 24% stake in the team, who sit fifth in the constructors' championship. Reynolds' Maximum Effort production company has teamed up with Otro Capital and RedBird Capital Partners, with fellow actor Michael B Jordan also among the investors.
Reynolds and McElhenney have frequently attended games and promoted the whole town as part of their approach to Wrexham.
The news was announced by Alpine's parent company Renault. James Toney, co-founder of Maximum Effort Investments with Reynolds, said on renaultgroup.com: "Maximum Effort Investments focuses on unlocking value through the power of storytelling, and we believe there is tremendous untapped potential in Alpine Racing. We are eager to help shine a light on this incredible team. We're thankful to our partners at Otro Capital and RedBird Capital Partners and look forward to diving in with them, as well as our co-investors Michael B Jordan and Rob McElhenney."
Since the Renault team was rebranded as Alpine in 2021, they have managed one victory and three podium finishes, with Esteban Ocon coming third in Monaco this season.
Read more:
Ryan Reynolds and Rob McElhenney join investors buying into Alpine F1 team