RMT announces further national rail strikes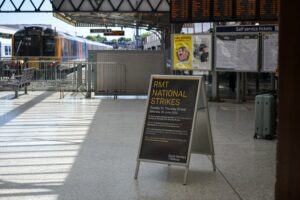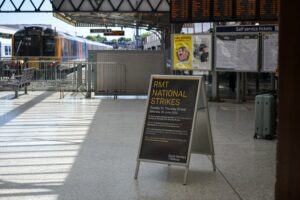 The RMT union has announced further national strikes and wider action on the railways after rejecting offers from both train operators and Network Rail last week.
The union's 40,000 members across Network Rail and 14 train operators will strike on 16 March. Train staff will walk out for three further days, on 18 and 30 March and 1 April.
The first 24-hour strike action will coincide with a strike by teachers, which is likely to close schools in England and Wales, as well as action by university staff. It was announced soon after nurses called additional walkouts for March.
The RMT's Network Rail members will also start an overtime ban lasting a total of six weeks in maintenance and operations, which the union warned would prove disruptive to the railway.
Network Rail sources suggested that it expects to be able to run more services than during previous stoppages, claiming that more staff may ignore calls to take industrial action.
The RMT general secretary, Mick Lynch, said: "Rail employers are not being given a fresh mandate by the government to offer our members a new deal on pay, conditions and job security. Therefore, our members will now take sustained and targeted industrial action over the next few months.
"The government can settle this dispute easily by unshackling the rail companies. However, its stubborn refusal to do so will now mean more strike action across the railway network and a very disruptive overtime ban."
Network Rail said there was no more money to offer. Chief negotiator Tim Shoveller said: "The RMT's leadership has shown its true colours by choosing politics over people. During months of talks we have made multiple concessions, compromises and offers in our determination to secure a deal. Thousands of employees are telling us they want the improved offer that we have tabled.
"Their action is condemning us all to a long and drawn out dispute with no obvious end in sight, and is only harming the very industry and people it claims to be here to protect."
The transport secretary, Mark Harper, said: "Just days after denying its members a say on their own future, the RMT leadership is now trying to make them lose multiple days' wages through yet more strikes.
"Our railways are not currently financially sustainable and these best and final offers would have given workers what they want and, crucially, the passengers what they need."
The renewed breakdown in relations has caused dismay in the rail industry, dashing hopes that the dispute would be settled with an improved offer in the new year after four weeks of industrial action around Christmas.
Staff have been offered a 9% pay increase in total, with 5% backdated to January 2022, along with discounted rail travel and higher percentage increases for the lowest paid – but with stipulations about "modernisation".
The union's national executive rejected the deals last week after consulting with branch representatives.
The Rail Delivery Group, representing train operators, said it was "dismayed that the union leadership has opted to reject our fair proposals without putting out a vote to their full membership in a democratic referendum".
Read more:
RMT announces further national rail strikes