Revenues top £25M at Bricks and mortar firm Aspect, after embracing 'All Things Digital'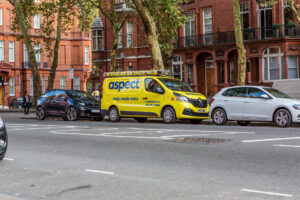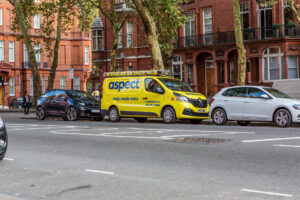 Aspect is the well-known property maintenance company in London that is recognised for its signature yellow and blue vans, which are a common sight on the roads of London.
The company operates a fleet of 200″man and vans," each staffed by experienced and reliable engineers who are dedicated to providing high-quality property maintenance services across everything from plumbing, electrics, roofing, drainage, leak detection and heating.
Over the last decade, Aspect has embraced digital technologies to become a "unicorn" in the property maintenance industry.
The company, which has traditionally been a bricks-and-mortar business, has successfully integrated digital tools and platforms to enhance its services and improve customer experience.In the last 5 years, revenues have risen from £15m (2018) to an expected £30m in 2022/3 and EBIT from £500K to £5M.
Co-Founder Will Davies' son, George Davies, has been studying at Durham University a module called 'The Changing World of Business',and has made Aspect's digital transformation into a case study. George Davies' analysis of the digital transformation of the Aspect, as a traditional bricks and mortar business, has shown there are significant revenue upsides by going-digital, including improving job and lifetime value of customers; Cost efficiencies – automation reducing operational overheads; and the Customerexperience being vastly improved.
According to George, Technology has played a vital role in the last five years doubling revenues at Aspect.George focused on Pay per click (PPC) advertising as having driven growth of the residential business, which now represents 50% of Aspect's revenue and profit. "It's totally replaced traditional forms of media such as Yellowpages and Thompson directories," says George.
A decade in the making, In-house digital job management system – called Chumley – now seamlessly links advertising including keywords,scheduling and staffing by integrating third party systems across ApplicationProgramming Interfaces (API's), Auto Scheduling software, Tokenised payment collections, the Contacts database and Finance.
Making Leak detection digital has also given Aspect a massive competitive advantage. On unexposed pipework, thermal imaging camera remove the need for manual invasive investigation. "No more pointlessly tearing up people houses," says Will Davies.
Back in 2004, when Aspect co-founders Will Davies and NickBizley started up in a shed in a Battersea business park, with two rented computers, they knew they would have to do something different to secure their place in a market bristling with competition.
From the start, Davies and Bizley, who are old friends,wanted to professionalise an age-old industry. "There are plenty of good 'manand a van' tradesmen", says Davies, "but no-one had tried building a tech enabled cutting edge business".
But Davies wasn't always interested in bricks and mortar. Hespent several years working in M&A at SG Hambros: "I ran my life forward five years and decided it wasn't for me. I wanted to build something myself".
Now embracing digital is what is taking Aspect to the next level and according to Davies and Bizley they are only just getting started.
Ultimately, Aspect is a company that has successfully transformed itself from a traditional bricks-and-mortar business into a leader in the digital delivery industry.
Through its commitment to technology, innovation, and sustainability, Aspect has established itself as a company that provides high-quality delivery services while also playing an active role in creating a better future for everyone.
Read more:
Revenues top £25M at Bricks and mortar firm Aspect, after embracing 'All Things Digital'