Recession clouds lift over UK jobs market as hiring starts to recover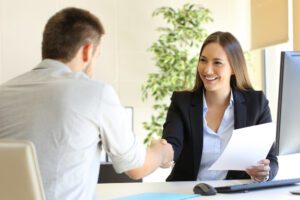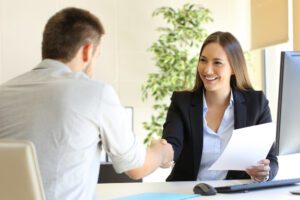 Recession clouds are receding from the UK jobs market as companies gradually regain confidence about hiring workers following a batch of better than expected economic data since the turn of the year, new figures out today reveal.
Firms are dipping their toes back in the recruitment market, lured by household spending holding up better than expected amid the cost of living crisis, according to research by KPMG and the Recruitment and Employment Confederation (REC).
The pair's permanent placement index – which measures how rapidly businesses are taking on new full time staff – hit 49.3 for the UK as a whole last month, a shade below the 50 point threshold that separates growth and contraction and up from 46.3 in February.
While the reading means businesses trimmed hiring for the sixth month in a row, it signals the "economy [is] performing better than was expected at the end of last year, and means it is still a good time to be looking for work, with hospitality, healthcare, accountancy and financial roles all powering ahead," Neil Carberry, chief executive of the REC, said.
However, uncertainty over whether Britain will eventually slip into recession this year, likely caused by a combination of the Bank of England's aggressive interest rate hikes to 4.25 per cent and higher living costs potentially chilling spending, means companies are more keen to take on temporary staff, which are easier to lay off amid an economic downturn to trim costs.
The REC and KPMG's temp placement index scaled to 52.5, the highest in six months, with London firms leading the way – the capital's score came in at 57.6.
London's permanent placement index, however, was the lowest in the UK at 40.2, deep in negative territory.
Today's new jobs market numbers are another sign that the UK economy is performing better than experts had warned just a few months ago.
Heading into 2023, the Bank of England was forecasting one of the longest recessions on record, driven by consumers shelving spending in response to the cost of living crunch raiding their take home pay.
Neither the Bank nor the Office for Budget Responsibility now thinks the country will slip into a recession.
But families tapping their savings and robust wage growth has partly shielded consumption strong, keeping the UK economy's head just about above water.
A sustained uptick in hiring could compel Bank governor Andrew Bailey and his team of rate setters to opt for a twelfth consecutive rate increase next month if it keeps pay growth elevated.
Markets reckon if the monetary policy committee does choose to bump borrowing costs, it would be to the tune of 25 basis points.
New GDP numbers out today are expected to show the economy expanded 0.1 per cent in February, setting the country on course to narrowly avoid a recession in the first half of this year.
Inflation has raced to 40-year high of 10.4 per cent, putting pressure on household finances, fuelled by strong wage growth and elevated energy prices.
KPMG and the REC said staff availability expanded for the first time since the start of 2021, possibly swelled by firms laying off workers and people returning to the jobs market to offset the impact of the cost of living squeeze on their finances.
"The big news is that candidate availability is up for the first time in more than two years. This suggests that, while the market is still tight, it should be getting gradually easier for firms to hire over the next few months," Carberry added.
Britain is being hamstrung by a jobs market participation problem that its peers have solved since the post-Covid reopening. Around 500,000 workers have left the UK's workforce since the beginning of the pandemic.
Read more:
Recession clouds lift over UK jobs market as hiring starts to recover