Now you can access South African-based premium products from one smart portal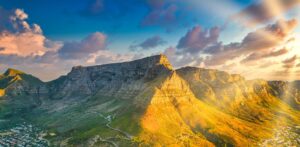 Could Paddington soon switch his beloved marmalade for specially crafted Fynbos honey straight from South African shores?
He could well do so, now that the Cape Trade Portal is on offer. The 'matchmaking tool' connects UK buyers with local Western Cape exporters via a virtual hub, which boasts over 1 600 proudly Cape-based products and services. These include natural products such as Rooibos and agricultural products, along with fine wines, software development, and design such as collectable arts and jewellery.
The Cape Trade Portal was launched in 2022 by Wesgro – the official tourism, trade and investment promotion agency for Cape Town and the Western Cape in South Africa – in partnership with the Western Cape Government and City of Cape Town. Its aim is to empower local exporters to expand their global footprint, while strengthening the Cape brand identity across key markets worldwide, starting with the province's top export market, the United Kingdom.
South Africa has a firmly established a reputation as an exporting powerhouse of premium, competitive, diverse products and services. The portal attests to this, with everything, from tech and innovation to natural and organic products from the Cape Floral Kingdom.
Alderman James Vos, Mayoral Member for Economic Growth and Tourism at the City of Cape Town commented, "Shining the spotlight on the programmes that will attract investments, boost exports and enhance connectivity is a key priority for the City of Cape Town. Increasing exports will positively impact production, which means more jobs and a stronger economy."
Experience the best of the best from the Cape
The campaign speaks to UK buyers seeking products produced with care and infused with the unique spirit of a particular people and place. Importantly, buying from the platform means supporting aspiring South African entrepreneurs as the portal also acts as a dedicated resource providing training, mentorship opportunities, keep updated on upcoming trade exhibitions, get support with non-tariff export barriers as well as assistance with regulatory and compliance requirements.
Made in the Cape
The portal is supported by the 'Made in the Cape' brand story, which is a robust digital campaign showcasing the Cape as the origin of unparalleled products. The campaign connects the Cape to quality, value, trustworthiness and sustainability, using  five of the region's  most well-known offerings – natural products (think Rooibos, honeybush, and so much more), agriculture, wine, technology and innovation, and design.
In conclusion, Erica Joubert, Head: Export Promotion at Wesgro. said, "It's encouraging to see such a positive uptake on the platform in such a short space of time. Export promotion is key to the economic growth of the Western Cape and the virtual Cape Trade Portal is an essential piece of a larger, on-going effort to assist businesses in the province and boost their growth potential. Wesgro continues to champion efforts to ensure that the province remains a sought-after source market globally".
To support South African sellers and indulge in an incredible selection of premium products, visit the capetradeportal.com.
Watch the Cape brand story here:
Read more:
Now you can access South African-based premium products from one smart portal