'More than half of UK broadband customers' hit by connection problems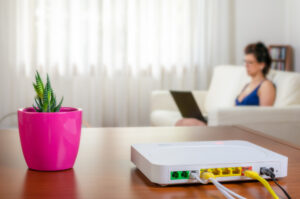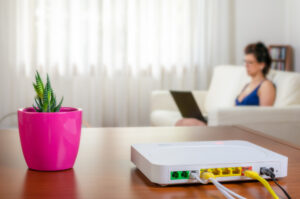 More than half of UK broadband customers have experienced problems with their connections, according to a report that says telecoms providers are adding "insult to injury" after forcing inflation-busting price rises on to their customers.
Many of the UK's mobile and telecoms companies have been accused of "greedflation" for pushing through mid-contract price increases of up to 17.3%.
A report by consumer champion Which? found that 53% of broadband customers experienced problems with their connection – from slow speeds, outages and connection dropouts – in the year to January 2023.
Of the UK's biggest providers, Sky, Virgin Media and EE were found to be the worst offenders, with 68%, 65% and 63% of their respective customers who were surveyed reporting problems with their connections.
BT fared the best among the UK's biggest telecoms providers, although a majority of its customers who were quizzed – 51% – still said they had experienced a broadband performance problem in the last year.
Even among smaller operators such as Hyperoptic, Shell Energy and Utility Warehouse, which tended to fare better in the survey, at least 40% of customers said they had experienced at least one problem.
"It is completely unacceptable that customers who have faced these eye-watering increases are also experiencing so many problems with their connection," said Rocio Concha, the director of policy and advocacy at Which?. "Earlier this year, many broadband consumers were hit with mid-contract price hikes of more than 14%, meaning it is more important than ever that their provider offers a reliable connection and good customer service."
The Which? survey of almost 4,000 broadband customers also found that 44% had also experienced a customer service problem.
In May, the telecoms regulator Ofcom released its annual customer service report, which found that customers felt that call waiting times, getting through to the right person quickly and dealing with a complaint first time were all factors that telecoms companies could improve.
Last week the government met Ofcom to discuss how the telecoms industry could ease the financial pressure on consumers struggling with the cost of living crisis.
Potential actions raised included better promotion, and a larger range, of cheaper social tariffs for the most vulnerable and financially strapped customers.
In February, Ofcom launched an investigation into the widespread industry practice of using mechanisms to annually increase customer bills by inflation, usually measured by either the consumer prices index or the retail prices index, plus an extra increase on top of between 3.4% and 3.9%.
"While some customers may be able to switch away to a better service and prices, many are trapped in contracts where they either have to accept above-inflation price hikes [each] spring or pay exorbitant exit fees to leave their contracts early," Concha said. "It is absolutely critical that Ofcom's review of inflation-linked mid-contract hikes results in changes that ensure customers are never trapped in this situation again."
Read more:
'More than half of UK broadband customers' hit by connection problems