Just Stop Oil's demands are 'contemptible', says Starmer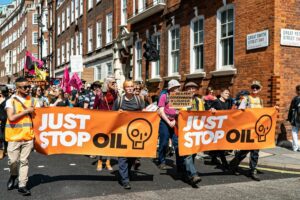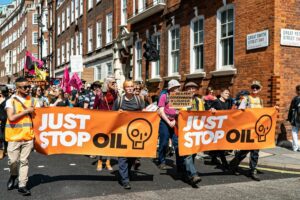 Just Stop Oil's demands to "turn off the taps in the North Sea" are "contemptible" and would lead to working people paying the price for the energy transition, said Labour leader Sir Keir Starmer.
Outlining his vision of a greener future, he argued Just Stop Oil risk "creating the same chaos" in the North Sea as they have already achieved on roads across the country with slow-marches and sit downs in front of motorists.
The protest group is calling for no new oil and gas licences in the North Sea, which is not dissimilar to Labour's position aside from the opposition's recent pledge not to retroactively cancel agreed licences.
Energy security secretary Grant Shapps has made persistent attempts to link Labour to the protest group after the opposition accepted £1.5m in donations from the campaign group's backer Dale Vince.
Writing in yesterday's Sunday Times, Starmer confirmed he would only ban the granting of new licences to explore oil and gas fields in the North Sea as he seeks to give businesses certainty.
"We won't revoke any licences issued by this government because, unlike them, we take investor certainty and legal obligations seriously. But nor will we issue new licences to explore new fields — because they are not necessary for a managed transition to a future in which we have lower bills, more energy security and long-term secure jobs for those working in the North Sea," he said.
He also criticised the government's decision to grant new oil and gas licences last week, alongside Shapps' pledge to "max out" supplies from the North Sea.
"We know that new licences won't boost energy security because the yield will be sold on the international markets. And we know 'maxing out' every last drop from the North Sea, the government's new position, will accelerate the climate crisis. The Prime Minister's argument is bogus and he knows it," he said.
Instead, Starmer announced Labour will seek to work with the oil and gas sector to secure a managed transition to net zero, and that it would also "crowd in investment in future energy production in the North Sea alongside newer technologies like carbon capture and storage and hydrogen."
In his view, the transition to net zero did not need to be an "ideological identity issue" as showcased in Just Stop Oil protests, and that instead, his approach could was "pragmatic" and "hard-headed."
"We will treat the transition as a national mission with a relentless focus on cutting energy bills, revitalising Britain's industrial heartlands and boosting our energy security," he said,
Starmer criticised the Conservatives for effectively banning new onshore wind developments, with industry calculations further generation could have saved £180 per year off bills, alongside its decision not to financially support the Rough storage facility and to decrease investment in energy efficiency measures.
"Last year President Putin put his boot on the world's neck by using energy as a weapon of war. But it is Conservative failure over many years that left Britain paying a heavy price," he said.
"Every turbine we fail to build is a gift to Putin, who has strangled the international gas market we are hooked to."
Read more:
Just Stop Oil's demands are 'contemptible', says Starmer