Jeremy Hunt announces plans to slash taxes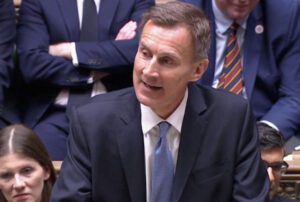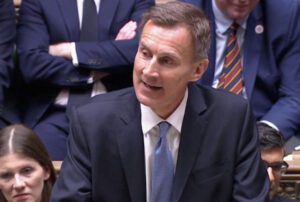 Jeremy Hunt said he has set Britain on a "sustainable path to lower taxes" as senior Conservatives urged the Chancellor to cut the burden in a bid to end Tory turmoil.
Hunt, who was appointed to No11 following Kwasi Kwarteng's mini-budget last autumn, revealed he will launch a major review on how to make the public sector more productive.
The Chancellor argued the country could save money and travel down a "path to lower taxes" if the state sector was as efficient as the private sector.
Speaking at the right-leaning Centre for Policy Studies on Monday, Hunt announced the new public sector productivity review would report back by the autumn.
He said: "That would mean a boost not just to GDP, but GDP per capita.
"It would mean increasing tax revenues without increasing tax rates.
"And it would put us on a sustainable path to lower taxes.
"It is also the route followed by Margaret Thatcher whose union reforms, privatisations and support for competition delivered lasting growth and productivity."
A Treasury source also claimed: "The public sector must challenge itself on how we can evolve in better ways and new delivery models, rather than being reliant on 'just a little bit more'."
The review will be conducted by Chief Secretary to the Treasury John Glen.
Hunt hopes increasing the efficiency of the state will help improve living standards and drive growth.
Despite the Chancellor's comments, a pressure group pushing for tax cuts stressed Britons now want action.
Joe Ventre, digital campaign manager at the TaxPayers' Alliance, told media: "Hard-pressed Brits have had enough of promises of tax cuts and no action.
"It should be incumbent on any Government to find efficiencies and save taxpayers' money.
"The Chancellor must bear down on excessive spending and pass the dividend on to taxpayers now, not in the distant future."
UK growth forecasts have been revised to show the nation will escape recession.
Accountancy firm KPMG predicted growth of 0.3 per cent this year, up from its previous estimate of 0.1 per cent.
The accountancy firm has pencilled in 1.1 per cent growth for 2024, with inflation expected to fall back to 2.9 per cent.
The Confederation of British Industry was also forced to revise its dire 0.4 per cent decline estimate to growth of 0.4 per cent.
However, the Eurozone was last week plunged into a technical recession with Germany and Ireland among the 20-member bloc recording two consecutive quarters of negative growth.
Hunt's comments at the CPS event come after two Tory bigwigs urged Prime Minister Rishi Sunak to cut tax to bring the Conservative Party together.
Ex-Leader of the Opposition Sir Iain Duncan Smith and former Welsh Secretary Sir John Redwood have ramped up pressure on Number 10 to reduce the tax burden on Britons amid the cost-of-living crisis and an ongoing crisis engulfing the Conservative Party.
Allies close to former Prime Ministers Boris Johnson and Liz Truss have been pushing for Sunak to cut tax in a bid to boost the economy.
During his explosive resignation letter released on Friday, Johnson also took aim at his former Chancellor and leadership rival.
He said: "Our party needs urgently to recapture its sense of momentum and its belief in what this country can do.
"We need to show how we are making the most of Brexit and we need in the next months to be setting out a pro-growth and pro-investment agenda.
"We need to cut business and personal taxes – and not just as pre-election gimmicks – rather than endlessly putting them up.
"We must not be afraid to be a properly Conservative Government."
However, the Prime Minister and his Chancellor have remained steadfast in their pledge to bring down inflation first.
The Consumer Price Index peaked at 11.1 per cent last October, reaching its highest figure since 1981.
Inflation fell to 8.7 per cent last month and Sunak hopes the figure can dip to around five per cent by the end of the year.
Read more:
Jeremy Hunt announces plans to slash taxes