Diversity champion Steph Keeble receives honorary doctorate from Aston University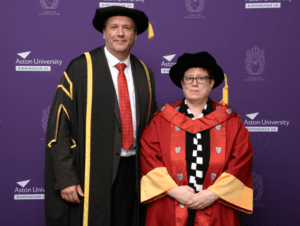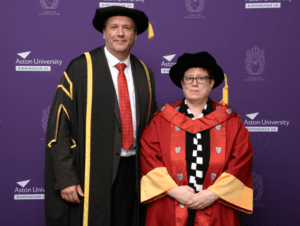 Aston University has awarded the director of Birmingham LGBT an honorary doctorate in business administration (DBA) for her exceptional contributions to education, social justice and the advancement of learning.
Steph Keeble received the honour at a graduation ceremony on Friday 28 July at Eastside Rooms in Birmingham.
The award recognises her transformative work in the voluntary and community sector, her commitment to inclusivity and her dedication to improving the lives of diverse communities.
Steph has played a pivotal role in the field of inequalities for over 25 years, serving in various capacities including support work, community development, fundraising and chief executive roles within the domestic violence and LGBT sectors. Her leadership has propelled Birmingham LGBT from a modest organisation with a £10,000 annual turnover in 2008 to one that now boasts a turnover of nearly £1 million, employing 24 staff members and supported by 30 volunteers.
Her work has always been rooted in education, with a strong emphasis on creating awareness, providing support and developing skills. Her innovative training programmes, designed to empower individuals and foster inclusivity, have received outstanding feedback. They cover critical topics such as women and substance use, domestic violence awareness, group work skills, sexual orientation awareness for HR professionals, diversity training, mental health awareness and fundraising.
On receiving her award, Steph said: "I feel really honoured and humbled to accept this award from Aston University. In accepting it I would like to acknowledge and thank the dedicated staff and trustees at Birmingham LGBT, as without their hard work and support I could not have achieved this."
Professor Aleks Subic, Vice-Chancellor and Chief Executive of Aston University, said: "This honorary award is based on Steph's outstanding contributions to higher education, tackling inequality and the application of existing knowledge in innovative ways to bring about social justice.
"Her work aligns closely with Aston University's core values and commitment to educational excellence and inclusivity.
"Steph is an inspiring role model for both staff and students."
Read more:
Diversity champion Steph Keeble receives honorary doctorate from Aston University