Borrow A Boat, the 'Airbnb' of boats, smashes crowdfund, raising over £3million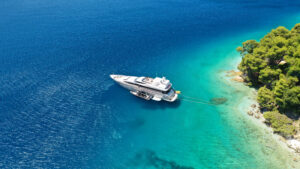 Borrow A Boat, the UK's leading boat rental and yacht charter marketplace, has today closed their most successful crowdfunding round to date, raising £3,017,030 from 670 investors.
The raise brings the business' lifetime crowdfunding total to over £7.8 million.
Founded in 2017, Borrow A Boat has access to over 45,000 boat rentals and yacht charters in 65+ countries including the UK, the Mediterranean, the Caribbean, North America, and South East Asia.
The raise follows accelerating growth and revenues in 2022, expansion into several new countries and three acquisitions in the last 12 months of competitors Helm, Barqo and Beds on Board. The business is currently planning a world first for a boat charter marketplace – to IPO.
Matt Ovenden, CEO & Founder of Borrow A Boat says: "In 2017, when Borrow A Boat was launched, the yacht charter industry was stagnant.
"We have always believed that boat rental should be as easy as booking a hotel, flight or train, so could see the opportunity the coming marketplace revolution afforded both boat owners and customers.
"Despite launching this round amidst the backdrop of increasing interest rates, inflation and the risk of recession, we have now successfully completed our biggest ever raise, bringing our lifetime crowdfunding total to £7.8 million.
"The huge success of this crowdfund, 402% over target, is clear recognition of our growth and progress towards our objective of making boating accessible for all. It shows the support, from investors, for our plans to grow the marketplace internationally.
"Going forward we will continue to innovate and disrupt – true to our mission to make boating more accessible, affordable, flexible and inclusive for all, to help drive participation, and make chartering a boat simpler, wherever you are in the world."
Read more:
Borrow A Boat, the 'Airbnb' of boats, smashes crowdfund, raising over £3million