Aston University's Vice-Chancellor tells Birmingham Tech Week diversity and collaboration are region's 'superpowers' driving next wave of tech innovation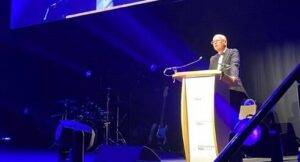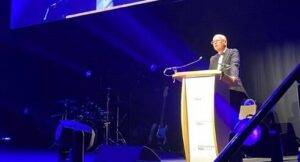 Aston University's Vice-Chancellor has told Birmingham Tech Week that diversity is the region's 'superpower', and it must be used to drive forward tech innovation.
Professor Aleks Subic, Vice-Chancellor and Chief Executive of Aston University, closed the week-long event which is the UK's largest regional tech festival and conference.
Speaking at the black-tie dinner and awards ceremony the Vice-Chancellor said that breakthrough ideas rely on diversity, inclusion and collaboration.
This month Aston University was ranked as the second-best university in the country for social mobility. For the third year running, the Higher Education Policy Institute (HEPI) placed the University in the top two in the country, based on several factors including access to education, continuation and the outcomes of undergraduate students.
Professor Subic told the audience of 1,000 technology experts and digital leaders that many of the world's most innovative ideas occur at the intersection of different cultures, disciplines, backgrounds and experiences.
He said: "With more than 1,000 starts-ups in the tech innovation space in the region, the West Midlands is once again becoming a powerhouse of technology in UK. Aston University as an anchor institution in the centre of Birmingham is committed to driving socio-economic transformation and inclusive growth through science, technology and innovation.
The 10 universities within the West Midlands Combined Authority area have the largest impact on the UK economic output and employment of all combined authority areas: together we are responsible for £6.4 billion of economic output, £3.9 billion of GVA and close to 46,000 jobs across the UK."
Aston University, which is a patron of Birmingham Tech Week, recently announced its 2030 Strategy designed to shape our future around the Fourth Industrial Revolution, exponential technologies and digital transformation, which are impacting every business and sector, and every part of our society in ways never seen before.
This year the University announced the establishment of the Birmingham Innovation Quarter (B-IQ) through strategic partnership with Bruntwood SciTech, Birmingham City Council, West Midlands Combined Authority and Tech West Midlands. The Birmingham Innovation Quarter will focus on groundbreaking innovations in genomics, bioinformatics, machine learning and artificial intelligence which will be used to create personalised digital tech solutions and heath tech and med tech of the future.
The University has already taken major strides this year to realise the strategy by establishing the new Aston Digital Futures Institute, Adobe Creative Campus for Midlands and Health Tech Innovation Accelerator, supported by Aston University Ventures, Centre for Growth and Centre for Research in Ethnic Minority Entrepreneurship.
Professor Subic added: "We are building a digital innovation powerhouse in the heart of Birmingham – a place where digital tech innovation, the brightest talent, most exciting businesses and cultural institutions come together to foster an environment which continually reinvents itself by harnessing fresh ideas and by pursuing innovations that make a positive impact.
"At Aston University we are creating an enterprising University that is embedded within the Birmingham Innovation Quarter, with all the essential ingredients of a globally interconnected ecosystem, to enable innovation at scale and pace, to attract enterprising talent, and create enterprising students, our future leaders of innovation and change.
"As the HEPI results show we are renowned for our social mobility, and now at Aston University the scale up work to further support the region is underway.
"Aston University looks forward to working together with Tech West Midlands and other partners within the Birmingham Innovation Quarter and beyond, to continue to create positive change, drive socio-economic transformation and inclusive growth in our region."
Birmingham Tech Week took place between 16-20 October 2023 during which Aston University played an active role in nurturing and promoting the region's innovators.
Professor Abdul Sadka the director of the Aston Digital Futures Institute helped start the week by taking took part in a roundtable with Parliamentary Under Secretary of State (Dept. for Science, Innovation and Technology), Paul Scully MP.
He used his platform to highlight the need to improve the region's AI and other digital skills to create a boost the local, national and international economy. He was also a judge of the 'Startup of the Year' Award which recognises new companies with a turnover of under £1million per annum.
The University played host to of Brum AI's postgraduate showcase which brought together AI students and professionals to share research and ideas. Finally, Aston University staff gave support and advice to budding tech entrepreneurs at the ScaleUp Summit: StartUp Zone.
Read more:
Aston University's Vice-Chancellor tells Birmingham Tech Week diversity and collaboration are region's 'superpowers' driving next wave of tech innovation