July 17, 2018 – The number of employer-sponsored stop-loss insurance claims of $1 million or more grew by 87 percent from 2014 to 2017, according to a new analysis from Sun Life Financial.
Over the four-year period, 634 employees with $1 million claims cost stop-loss insurers $935.3 million. Most claims ranged between $1 and $1.5 million per individual, but 21 claims exceeded $2 million and a handful topped $3 million each.
The top five conditions that result in million-dollar claims include leukemia, lymphoma, multiple myeloma, congenital anomalies, and malignant tumors.
High-cost injectable treatments and blood infusions for cancers and rare blood diseases also drove claims costs over the million-dollar mark.
"Of the total $935.3 million in claims attributed to members with more than a million dollars in claims between 2014 and 2017, 6.6 percent (or $61.5 million) were for high-cost injectables," the team said.
Source: Sun Life Financial
READ MORE: How Payer Philanthropy Can Address Social Determinants of Health
The top five most expensive treatments were mainly for blood diseases. The most expensive drug on the list was Yervoy, a cancer treatment.
Large employers are more likely to have a higher number of high claims costs than smaller employers.
The team found that 39.9 percent of employers with 5000 or more workers had at least one employee with claims exceeding $1 million. Less than 0.5 percent of employers with under 100 employees had a million-dollar claim during the study period.
Stop-loss insurance, or when an employer purchases claims coverage from an external insurer, faced national costs of $6.7 billion during the 2014 to 2017 period. Employers that use stop-loss insurance may find that insurers are footing most of the bill for emerging treatments, medications, and services that address these rare, high-cost conditions.
"We're seeing continued significant growth in the number of million-dollar-plus claims as the result of new life-saving treatment options coming to market, as well as existing treatments getting approved for expanded use," said Dan Fishbein, MD, president of Sun Life Financial US.
READ MORE: How Payers Can Succeed Under Updated 2019 HEDIS Measures
"This means better care and outcomes for patients and is also an important consideration for employers who self-fund their medical plans."
Among total stop-loss insurance costs, cancer care for malignant tumors, leukemia, lymphoma, and multiple myeloma topped the list with $800 million in costs from 2014 to 2017.
Following cancer care, the costs of chronic renal disease reached $152.8 million. Congenital anomalies cost stop loss-insurers $115 million.
Blood diseases like hemophilia also were significant drivers in stop-loss costs because a single treatment is extremely expensive compared to other chronic conditions. Currently, there are less than 20,000 individuals in the US with hemophilia.
In 2017, the average treatment cost for cancer was $148,500 per patient. Hemophilia treatments cost an average of $448,600 per patient.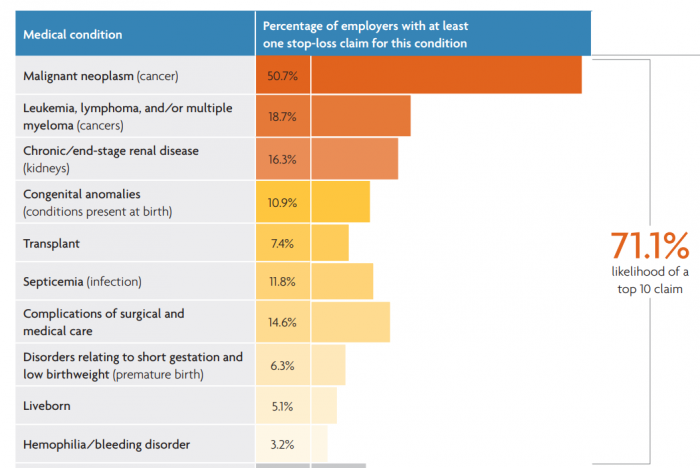 Source: Sun Life Financial
READ MORE: CMS Proposes Drug Pricing, Price Transparency Changes for Medicare
The likelihood of an employer filing a stop-loss claim for cancer related tumors is 50.7 percent, meaning that payers sponsoring stop-loss insurance will likely have to cover some form of cancer care for half of their employer clients.
Additionally, 71.1 percent of employers will file a stop-loss claim for one of the top ten most expensive conditions.
The team suggested that employers using stop-loss insurance plans should take a hands-on approach to improvement management of their employee's high-cost claims.
Employers should determine which medical expenses have the highest impact on their spending by reviewing demographics of their employees. Demographic information can help employers identify the employee groups that are most likely to have high-cost conditions through zip code data and social determinants of health.
Employers can also consult with their claims administrator to review how chronic and high-cost conditions are managed.
Engaging with the claims administrator or stop-loss payer can help employers determine if resources are available to identify cost savings, support cost negotiation for services, or provide high-quality care options to members. Employers can review their case management and wellness strategies to check if there are treatment support mechanisms in place for higher risk employees.
Medication and prescription management may also help reduce high stop-loss claims spending for employers, the report said.
Employers could review claims history to determine which medications drove the highest rates of spending for their health plan. Employers can also determine which medications are paid by the health plan or by pharmacy benefits.
Employers should also learn how specialty medications are defined by their pharmacy benefit manager (PBM), the team advised.
Specifically, an employer should see if cost containment programs like prior authorization or drug-tiering are available to the plan. Employers could also benefit by staying informed about newly approved medication treatments and assess if new treatments could reduce plan costs.
Ultimately, employers need to evaluate if their stop-loss coverage package is appropriate for their employee groups.
Employers should consider beneficiary risks, claims history, and coverage benchmarks when choosing or adjusting a stop-loss deductible, the team suggested. A stop-loss deductible is the expected total of all claims costs under an employer, and any spending over the deductible amount is reimbursed to the employer.
Employers may want to include pharmacy claims in their stop-loss coverage, to contain pharmacy spending and costs. Stop-loss coverage should also have clinical resources and cost-containment solutions to help identity cost saving opportunities.
Last year, analysts from AM Best found that the stop-loss insurance market is a growing opportunity for payers because the market was stable and premiums earnings increased. However, payers providing employer-sponsored stop-loss insurance may face new cost containment challenges if claims spending continues to climb.
Source link